Six Reasons Why the Rodeo Should Be on Your Calendar This Winter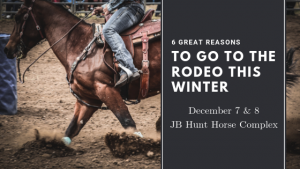 Finding things to do when the weather gets cold in Raleigh can be a challenge, especially if you have loved ones to entertain in the process. But what if there was a local event that was not only fun and exciting, but great for the whole family and supportive of local business, as well? Carousel Farms' winter rodeo offers just that and more. Read on to learn  why the rodeo in Raleigh should be your next stop for your family fun.
It's Not Just Bull Rides
If you think a rodeo is just guys riding bulls, you've got another thing coming. Rodeos are a whole lot more than cowboys. At the rodeo this December, you'll be treated to exciting events like:
Barrel racing

Youth events

A mechanical bull

A petting zoo

Amateur events

Rodeo clowns

Great food and fun

And much more
It's Family Friendly
One of the best reasons to try out a rodeo this winter is the fact that the events are family friendly and are great venues for bonding time with your loved ones. Not only are the rodeo events wholesome family fun, but they offer a little bit of something for everyone, from the tiniest tots to your grumpiest grandpas. The adults in your crowd will appreciate the excitement of barrel racing and bull riding while the kids will enjoy rodeo clowns, a petting zoo and a mechanical bull they can try their luck on. So whether you've got a group in town to entertain for a few hours or it's just you and a couple of buddies, you're sure to find something to enjoy.
Great Food is Always on the Schedule
One of the best kept secrets about rodeos is the amazing food that comes with it. Bringing your family and friends to the bull rides is like introducing them to some of the best food in the area without having to travel too far from home. Food at the rodeo includes event fare like hamburgers, hot dogs, nachos and funnel cake and even local food trucks so you can get a taste of the local cuisine, too.
See National Rodeo Heroes
Did you know that the Carousel Farms rodeo isn't just a small town event? Cash and other big ticket prizes means the stakes are high and competitors from all across the nation will be bringing their A game to compete to be the best.
It's Affordable
Living in North Carolina and trying to keep the family entertained can be expensive, but not at the Carousel Farms rodeo. You can treat your entire family to a day of fun and excitement for less than you think and even better, you'll be building memories with your loved ones that you will remember for years to come.
Rodeos Support Local Businesses
Part of being a part of your community is supporting the local businesses that make it great. Attending a rodeo is a great way to get involved with small businesses in your area and keep your spending dollars in your local community. Carousel Farms has been owned by the Mullen family for generations, and focuses on providing wholesome fun for the whole family close to home. Vendors that exhibit at the rodeo encompass both local and national brands and shopping at rodeos helps support your local economy.
Learn more about this year's rodeo and more rodeo events throughout the year held by Carousel Farms at www.carouselfarmsraleigh.com.
Madison Fisler Lewis is owner of M.F. Lewis Communications, a content marketing firm based in Cary, North Carolina.